AGE of WUSHU
If you had enough with elves and dwarves, age of wushu is a good alternative for you. Martial Arts as its base system, age of wushu gives you a fresh look at mmorpgs.
AGE of WUSHU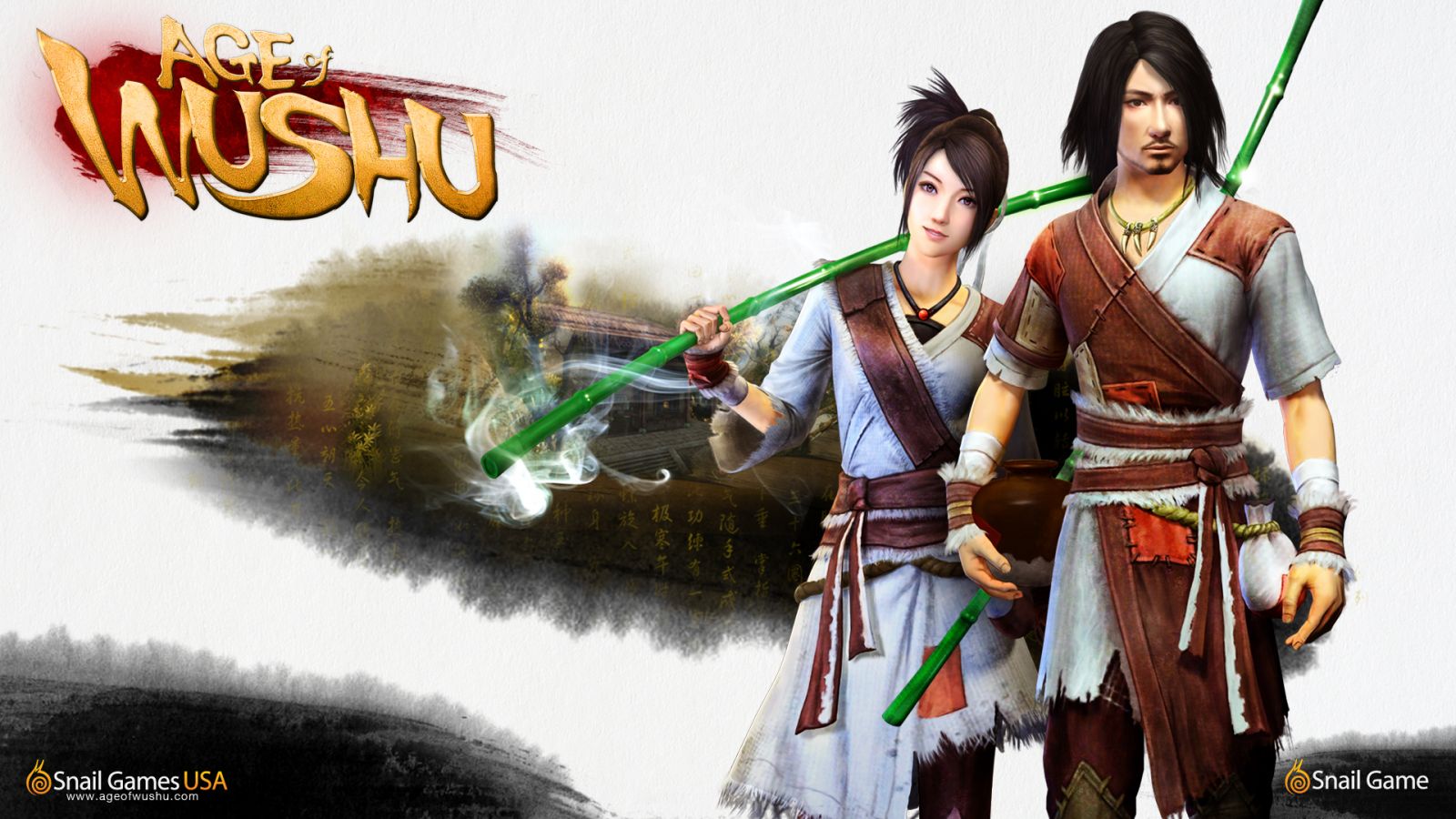 Developer(s): Snail Games ( http://snailgamesusa.com/ )
Publisher(s): Snail Games ( http://snailgamesusa.com/ )
PLOT:
    Age of Wushu takes place in China in the early Myng Dynasty. The world itself is pretty calm and so the Jianghu martial arts is to be flourished and developed. Many martial arts school lean towards training so the change begins. Many have come to learn the martial arts which leads government to take precautions for a possible future riot. So does the Eastern Chamber and the Royal Guards are formed. They influence the world of Jianghu causing Zhu Yuanzhang the founder of Ming Dynasty to get suspicious and start to get rid of those who he didnt very well trust.
    After a period of power and manupilation, the emperor passes away so begins the chaotic era for the story in Age of Wushu. Different schools developed different type of martial arts but there was only one thing in common and that was to hold the ultimate power in hand to rule the Jianghu.
    As a student of martial arts in the Age of Wushu, you are to pick a school and train yourself with the teachings of the techniques and get on with the adventure of the domination for the martial arts and power.
SCHOOLS: 
     In Age of Wushu, there are schools which determine the way you play the game. Each school has a unique style and skill set and their own rules. These rules are to be obeyed and if you do not accept these rules and act accordingly, you get to be punished by the school management which then you will have to repent and pay for your sins to lower down your discipline value. 
     Once you commint a crime that goes against school rules, your discipline towards that school increases which debuffs you in some ways such as lowering your hitpoint or things that are similar. So this means, accepting and obeying your specific school rules play a crucial role on you throughout the game.
EMEI: 

School Proficiency: Melee, Long-distance

School Weapon: Palm and Finger, Dagger
Skill Specialty: Healing
    Emei school only accepts women to be trained due to their beliefs and ideology. Their strong part is the combination of varied types of different attack techniques. Emei teachings master the use of bladed weapons along with unarmed combat. Although sword is their main type of weapon; as secondary or more like hidden attacks for deadly opportunities, they use needles and hairpins which can be considered as "concealed" weapons.
Emei School Skills:
WUDANG:
School Proficiency: Melee

School Weapon: Palm, Sword
Skill Specialty: Sustained Group Attack
     Wudang School technique relies on redirecting the enemy attacks back to the attacker. Since the ideology behind the Wudang is based on balance, they are very solid fighters in terms of both mind and body readiness. They have a good combination of palm attacks and a sword keeping a balance in their flow of combat with fluid maneuvering.
Wudang School Skills:
SHAOLIN:
School Proficiency: Melee

School Weapon: Palm and Kick, Sticks, Staffs
Skill Specialty: Group Stun
     Since Shaolin is referred as the holy grounds of China, they are usually against violence but this doesn`t stop them from being masters of unarmed combatants. They are focused on their inner spirits for a life long journey which leads them to strenghten their physical selves as well to balance it out. Although Shaolin members are experts in hand-to-hand combat, they are on a master degree using sticks and staffs as weapon as well. They don`t approach these items practically as a weapon. It is more like they learn to use of every-day life items to help their needs to be converted into a weapon if necessary.
Shaolin School Skills:
BEGGAR`s SECT:
School Proficiency: Melee

School Weapon: Fist and Kick, Staff

Skill Specialty: Group Damage
     Beggar`s Sect is the first line of defense from the invasion forces over China. Their ranks works in a perfect hierarchy. They are mostly rely on their fists and kicks when they go into a fight, they have a good use for their staff as well which they carry around on their journeys. They like to help out the needy and bound by a very strict code to stay true and royal to the sec`s ruleset.
Beggar`s Sect School Skills:
SCHOLARS:
 School Proficiency: Mid-range
School Weapon: Duel Sword, Musical Instrument
Skill Specialty: Music Attack
     Scholars are the true artists in the society. To be able to join the Scholar School, it is required that you have to know at least one of the art branches such as musician or a painter and such. Even though they have the ability to use a sword, where their power lies is within the music they play. According to the legend, it is said that there was a deadly attack hidden in their songs back in the day and they can kill their prey by playing the song without even a scratch or blood spilled. A clean and untraced killing move which still holds it`s mystery up to this day.
Scholars School Skills:
TANGMEN: 

School Proficiency: Long-range
School Weapon: Darts, Daggers
Skill Specialty: Poisons, Hidden Weapons
     Tangmen are more on the fully unknown side of the martial arts history. People know them but nobody truly knows what they are and how their techniques works cause nobody ever saw the technique completely and lived long enough to tell. They use the techniques of poisonous darts and hidden weapons which can be used from any side on a specific attack leaving the enemy defensless against them. Which makes them a deadly opponent.
Tangmen School Skills:
ROYAL GUARDS: 

School Proficiency: Long-range
School Weapon: Blades and Swords, Palm and Kick
Skill Specialty: Crafty and Cunning
     Royal Guards are the pupil of the emperor which are directly connected to him so they don`t get to report anybody else to their own actions. They are a cruel and vicious bunch who seeks ultimate power and control mainly using their blades and swords of any type and also use their unarmed combat skills when in need which they don`t need too often. They believe in order of their own which makes them feared by most living on the lands of China.
Royal Guards School Skills:
WANDERER`S VALLEY: 

School Proficiency: Long-range
School Weapon: Blade and Swords, Fist and Kicks
Skill Specialty: Sinister and Ruthless
     Wanderers are the secretive society of them all. Nobody understands their ways. They rely on stealth and hidden techniques of blade and sword attacks which makes them very unpredictable for the opponent. This leads most not to get in a fight with them as long as it is really necessary. They mostly use poisons and sneak attacks to support their way of fighting which is another reason why not so many people get to know about them since they lack the knowledge to be found alive and kicking.
Wanderer`s Valley School Skills: