Winnie Coloring Math
Play this game with Winnie and friends and use your maths skills to paint the picture Easy and good Toon games.
Play review and controls of Winnie Coloring Math Game
In this game in winnie coloring math games, you need to color the picture and the color changes with the different portions of the picture. In order to find out which color you need to paint a particular portion with, move the mouse brush to that area and once you do that, a math question will appear at the bottom of the screen. Find the answer to the math question and look at the color panel at the right side of the game screen. The color with the number you have found is the color you should use to paint that area. Paint the picture this way and complete it. Have fun.
Game Controls: Mouse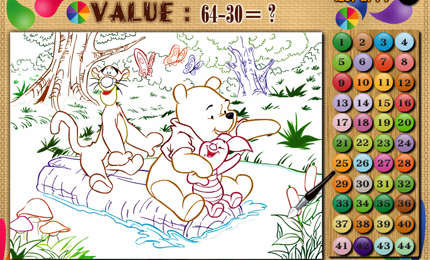 Game Type: Toon