Sponge Bob Words
If you are a fan of Sponge Bob the Squarepants and like words games, you should try this game Easy and good Toon games.
Play review and controls of Sponge Bob Words Game
Sponge Bob the Squarepants are waiting for you to play this game in sponge bob words games with him. In this gane, you are going to fly with Sponge Bob and collect the letters that appear in the game screen flying around. Of course, you are not going to collect random letters. On the right bottom side of the game screen, you will see a word in each level. You are supposed to collect the letters that complete the word. If the word is OWL, you need to collect an O, a W and an L to complete the level. Use the arrow keys to control Sponge Bob in the sky. Avoid the birds as they will blow up Sponge Bob`s flying balloons.
Game Controls: Arrow keys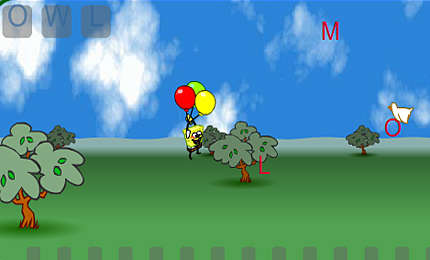 Game Type: Toon Games