Destroy Spectros
Spectros, which are colorful and evil aliens, are invading the planet of iron. Eliminate them all to save the planet. Easy and good Skill & Brain games.
Play review and controls of Destroy Spectros Game
This is a shooting and physics game in destroy spectros games which is pretty fun. The objective in this game is to shoot each alien and advance to the next level. However, in order to shoot an alien successfully, you need to turn your shooting color to a color that matches the alien`s color. Changing your shooting color is done by simply shooting at the colored mirrors. The mirrors will change your shots color and reflect it to somewhere else. So while changing the shooting color, you also need to reflect it towards the alien to shoot it. Use the arrow keys to move your character and use the mouse to aim and shoot. Have fun.
Game Controls: Arrow keys & Mouse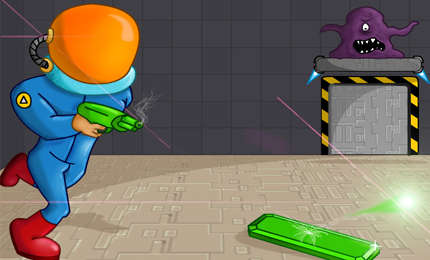 Game Type: Skill & Brain Games