Piranha Hunter
Piranha hunter is little indian boy who trying to reach his girlfriend. help him to eliminate that piranhas. Easy and good Shoot & Hit games.
Play review and controls of Piranha Hunter Game
One early morning, little indian boy Rupin was on his way to meet his pretty girlfriend Tara, at the other side of the river where the view was so beautiful and romantic, a perfect place for lovers to visit.
gamess.com/up/img/2ql/piranhahunter.jpg" alt="piranhahunter" width="357" height="237">

However, it turned out this was not going to be a peaceful day as Rupin had expected it to be when he reached to the bridge to the other side of the river. The evil piranhas were stealing the bridge by biting it into pieces! Rupin could see Tara at the other side, looking all scared and worried. Unfortunately, before he could do anything, the piranhas quickly stole the bridge and were gone.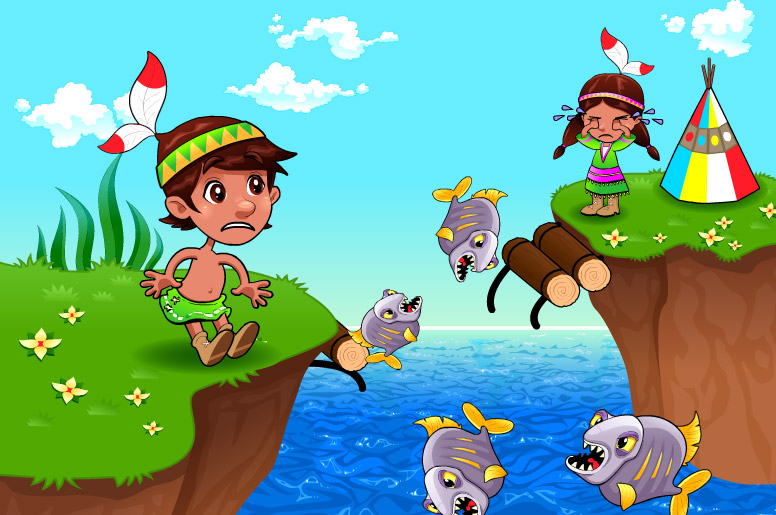 How was he going to be able to pass the river now to comfort his worried girlfriend? Hopefully, he knew  the answer; he needed to build a new bridge. Yet to be able to do that he also needed to buy the tools he would need for the construction.  So he decided to find some money to buy the tools from the Cowgirl Derrtyh. Rupin knew what he was going to do very well. He was going to hunt those evil piranhas to sell and get money to rebuild the bridge so he could reach to Tara.
 

How to Play

Use your bow and arrows to shoot the piranhas and get them out of the water.  Using your mouse, you can set your aim. Click your mouse to shoot an arrow. Once it has caught a piranha, Rupin will pull it out of the water. The more levels you play, you will see different kind of piranhas to hunt. Some piranhas worth more money than others.  Once you finish a level, between every other level, you can buy items that can help you.

 

Items

Bottle: Using the bottle gives you the ability to shoot and pull faster.




Clover: Clover makes you lucky. And when you are lucky, you win more golds.




Dynamite: If you accidentally shoot something else other than the piranhas, you can use a dynamite to cut the string and stop pulling.


Game Type: Shoot & Hit Games